I found this great article that I wanted to share with you.   It was written by Finding Your First Home
in 
It is quite common now to receive most of these document from your REALTOR® or from Escrow on a thumb drive so paper retention is reduced.  Just make sure you keep it somewhere.  Dawn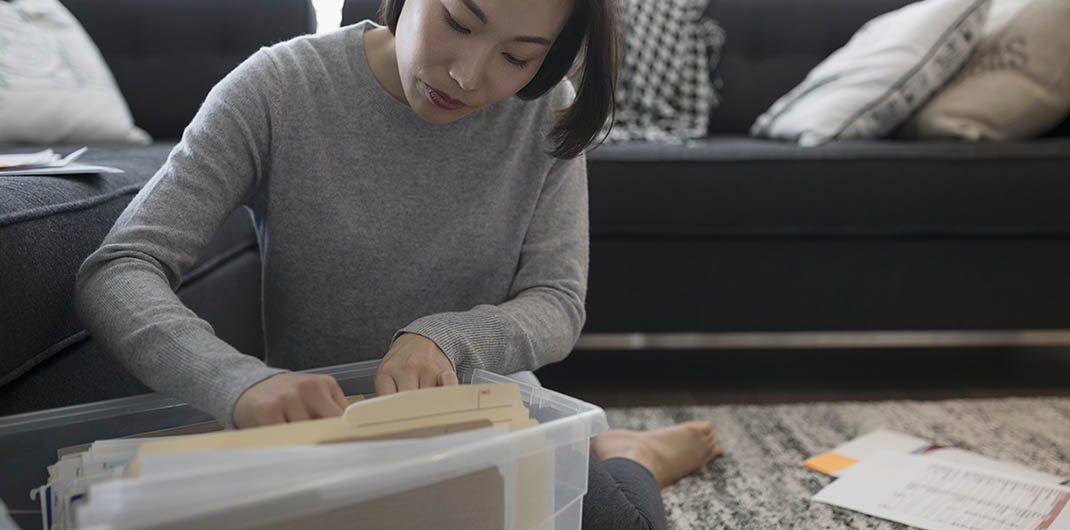 Immediately after buying my first home, I went out for a celebratory lunch at my favorite Mexican restaurant. Blame it on too many margaritas or the fact that I could finally relax after a stressful transaction, but I somehow managed to leave my entire closing packet at the table! I had only been a homeowner for a few hours and was already off to a rocky start. By the time I realized my mistake, it was too late. All of my important documents had gone missing.
As you may have guessed already, this is a "do as I say, and not as I do" type of post.
Home Buying Documents That You Should Keep
As soon as you get serious about buying a property, you should start a file system. This can be a physical folder or digital. All that matters is that it's a safe place to store all of the contracts, agreements and important documents related to your real estate transaction. You may need to resurface these documents post-closing if there's an issue with your home.
Agent Representation Agreements
If you elect to work with a buyer agent, you'll want to keep any formalized contracts. These contracts state the terms of the agreement between you and the agent/brokerage. In case an issue crops up after the closing, you'll want to refer back to the exact services that were agreed upon and if your agent can assist.
Purchase Contracts and Agreements
Both a contract to purchase a home and a sales agreement are legally binding documents. They outline all the key aspects of the deal, including price, deadlines, contingencies and concessions. Don't forget to save these along with any addendums or riders that supplement your purchase agreements.
What happens if someone doesn't hold up their end of the bargain and you discover the problem after you move in? These documents will help build your case should you need to hold someone responsible.
Seller's Disclosures
You'll want to retain any written or verbal statements made by the seller that disclose important or relevant information about the property. Sellers are required to be up-front about any known flaws and defects. You will want as much documentation as possible for legal recourse if you discover a defect that was covered up after the sale was finalized.
Home Inspection Reports
Home inspections by a licensed home inspector or other contractors are an important part of your due diligence process. They provide a thorough analysis of the condition of the home. After the change in ownership, you may want to refer back to the report and game plan for improvements and property repairs. Remember, problems that you were made aware of during the inspection should be addressed during your ownership or otherwise must be disclosed when you go to sell.
Property Appraisal
For financed properties, a home appraisal is an integral part the mortgage process. Home appraisals provide a third-party opinion of the value of your home. The appraisal can come in handy if you need to dispute the assessed value of your property. For instance, if your property tax seems high, you may be able to leverage your appraisal report to have your assessment re-evaluated.
Owner's Title Insurance Policy
Title insurance provides coverage for past problems in the chain of title to a property. These include hidden risks due to forged signatures, missing mortgage discharges, probate issues, etc. that are unknown at the time of closing. In the rare chance that a dispute arises, it's best to have your policy readily available as it's critical to protecting your claim to the title.
As soon as you get serious about buying a property, you should start a file system. This can be a physical folder or digital. All that matters is that it's a safe place to store all of the contracts, agreements and important documents related to your real estate transaction.
Home Insurance Policy
Mortgage lenders require that you have homeowners insurance. After all, the lender has significant interest in your home and it wants to see that the asset is protected. Insurance covers a wide variety of issues – from theft and vandalism to household malfunctions, like freezing pipes. You never know when you're going to need your insurance to kick in and when you do, you'll want easy access to your policy info.
Warranties
If you purchase a newly constructed home, a builder's warranty likely comes with it. Even used homes are sometimes protected by a home warranty that covers malfunctioning of certain items, like heating and cooling systems, plumbing and electrical or appliances. If something fails during your homeownership, you'll want to refer back to your warranty coverage plans. Utilizing a warranty can help bolster repair expenses.
Closing Disclosure
Your closing disclosure (CD) should have been sent to you at least three days before your closing. This five-page document details information about your loan and closing costs. You can refer back to your CD for loan terms, disclosures and contact information. Plus, you want to hang onto it for when tax season rolls around as some aspects of your loan may be tax deductible.
Property Deed
Your deed and pertinent mortgage documents will be recorded at your county registry. This document states the transfer of ownership from the seller to you. Since the deed is made available on public record, you don't necessarily need to keep it. That said, it doesn't hurt to save the original copy, which is usually mailed to you after the deed is filed.
Helpful Info
During the change of hands, the sellers may provide you with helpful information like key contacts for service providers – think snow removal, lawn care, pest control, handyman etc. Some sellers may go so far as leaving guides behind for how to work certain mechanicals, systems or quirks about the house.
What Happens If You Lose This Stuff?
What happens if you accidentally leave everything at a Mexican restaurant? The good news is that you can track down most of the information through a few different sources.
Your real estate agent's brokerage firm is required to keep many of the aforementioned documents, like the buyer agent agreement, purchase docs and seller's disclosure, on file.
Your lender may have a copy of the appraisal report on file along with your home insurance binder.
Your closing agent or attorney should be able to provide you with a certified copy of your closing package, which includes the CD, and title insurance policy.
If you need a copy of your deed, you can contact your county's registry of deeds or stop by in person. Many counties have made the information available online.
The other ad hoc items can be tracked down with some effort. For instance, you may need to reach out to your home inspection company directly for a copy of the report.